CAMBODIA - Education Seminars and Local Clinics
October 5 -  October 19, 2019 / 14 Days, 13 Nights
---
Overview
This will be the fourth year Project Helping Hands and the Emergency Nursing Association (ENA) in partnership work together providing educational experiences to students and medical professionals with the University of Puthisastra and clinics/education in needy areas around the Phnom Penh area. 
We bring volunteers to this region with the objective to strengthen and improve the Education system and health outcomes for people in the communities. Through health assessment, primary care and preventive education we strive to reduce the morbidity in the populations we serve.
---
Team Leadership : Rita Henderson
Contact: rjhenderson2014@yahoo.com 
Cambodia Partner Organization: University of Puthisastra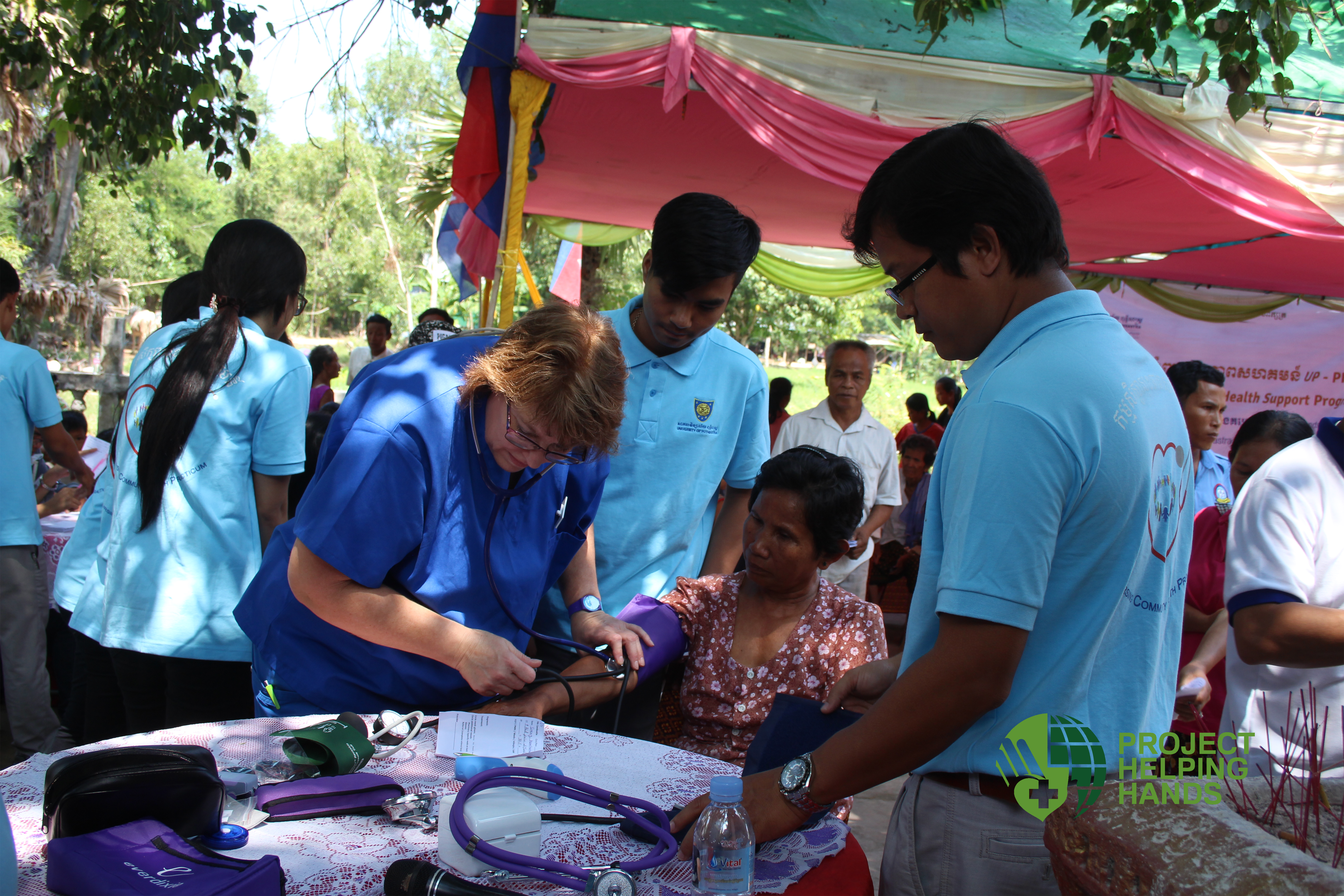 ---
Trip Details
The team will fly into Phnom Penh where it will be headquartered for the majority of the trip.  Depending on where the best locations for clinics are determined, there could be some overnight stays outside the city.   Final daily itinerary will be confirmed much closer to the departure date. Clinics will be held together with Students and medical professionals from the University of Puthisastra.
The trip will be primarily half classroom teaching/labs and half clinics.
There will be some time allocated to visit historical and cultural sites during the trip.
Trip Rating
This trip requires a reasonable level of fitness to be able to participate in the activities as describe:
Amount of in Country travel:  Team members will travel via vans/buses from the University where education seminars will be held to rural community locations to conduct health clinics. 
Sleeping arrangements:  Accommodations will vary from staying at a hotel in Phnom Penh to perhaps guest houses outside the city.
Running water/electricity:  Will be available at all housing locations. Some clinic locations may not have electricity or running water but the team will carry sufficient water for personal and clinic purpose.  
Physical Requirements:  You should be in moderate to good physical condition for this trip. You will need to assist with moving baggage (medical/education supplies) on and off of transport vehicles and into education/clinic facilities. The weather will be warm to hot and humid.  
The primary focus for this team is to provide general health care and health education services. We seek licensed health care professionals including but not limited. Click on the link for more details.
---
All teams require a minimum donation. Volunteer to join our all-inclusive deployment or make a donation on our team donation page