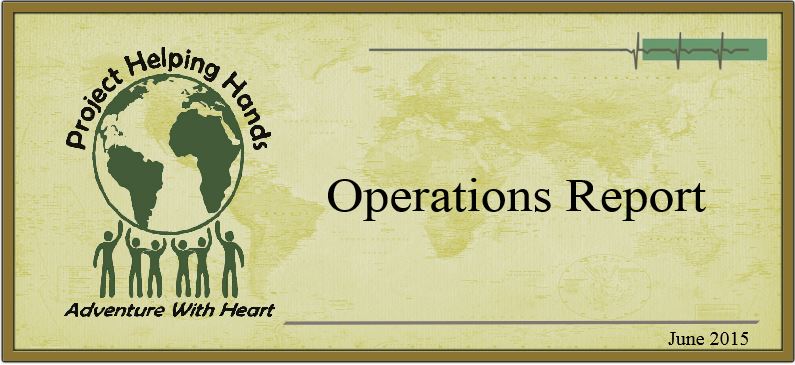 IMPORTANT NOTICE: This story is being hosted on our new and "Under Construction" website. Please note that most links and information contained within this site are not complete nor functional! We anticipate having the new website fully operational by September 1st. of this year! Thank You for your understanding while we are in transition!
OPERATIONS REPORT
Summer is upon us! At lease here in Oregon!
As I am sitting here in the office looking out at the thermometer under a nice shady tree I can't help but notice that we just surpassed the 100 degree mark for the first time this year. It is early June and is surely a sign of the long hot summer ahead. While during the summer months we typically don't have a lot of team's deploy it is a very busy time of the year here in the PHH office.
Although I am very accustom to writing "Operation's Reports" which are presented to our Board of Directors during each of our five annual meetings this is the first time that I am adapting a portion of that report for distribution to our member's and followers. It is my plan to share a portion of the report with you shortly after each of our five annual board meetings. We believe that you will find this information interesting and should be a viable avenue to help by keeping you informed of what is taking place within PHH.
Teams departed since the March board meeting:
• Ilagan, Philippines: This team deployed in April with 15 team members (of which several were returning members from the 2014 team). The team was led by Anne-Marie Summerhays and Rick Burian was the Clinical Director.
Report from Team Leader Anne-Marie:
On April 10th, 2015 the team from the US left for Ilagan, Isabella, Philippines.
There were 15 total team members:
1 attending MD
4 EM medical residents, one of them about to graduate.
2 non-medical people-one a student and one an acupuncture and crisis worker.
8 nurses, most ER nurses
We met up in Manila, stayed one night at the Hotel Kabayan, in Pasay City near the international airport. We flew north to Cauyayan the next day, about an hour and 15 minute flight. We were picked up in the Nehemiah Foundation bus and driven to Ilagan, about 45 minutes. Our heavy supply bags were picked up in Manila and driven overland to avoid the heavy fees of checked baggage.
Upon arrival to Ilagan, we got settled into our hotel,The D'Infinity.. Normally we would then have sorted our supplies, but the vehicle driving them north had trouble and was being fixed. We did our team orientation while we waited for our bags. Our supply bags arrived about 7pm, we sorted the supplies and split them into bags for each clinic day. As we were a mobile clinic team, we decided to divide most types of supplies into 7 piles (the number of clinic days we had) and take some to each clinic, so that we wouldn't run out of anything before our last clinic. Any supplies left over were rolled forward into the next clinic bag.
The 7 barangay's where we held clinic were:
Yerban Norte (here we had a dentist to help us, and we held a large circumcision clinic. This was the only place a dentist was with us. We did do some circumcision's elsewhere but not as many.)
Imelda
Rang Ayan
Morado
Cabannungan
Bigao-- this was the farthest drive for us, more than an hour out into the countryside.
Alingiguan 1st (Will's home barangay).
All areas seemed appropriate for our services. All barangays have a rural health center, but they are staffed only one or two days a week. What primarily happens at these health centers is somewhat preventative care-- advice, immunization clinics for infants and small children, health education, some maternal health help, sometimes circumcision for young boys. There is little in the way of medication help or care for complicated issues. People can have their blood pressure checked, and are often told the name of a blood pressure medicine to buy, but no pills area available to treat htn there at the health center.
Many people that we saw this trip had uncontrolled hypertension. I would say it was epidemic, and I feel that we saw more of it than in previous trips. I don't know why this would be. It was our biggest challenge and struggle-- how do we help people who live with high blood pressure, have no consistent way to afford their medications or have never been placed on medications and/or cannot afford to go for the follow up that is necessary when someone is started on blood pressure medicine. We talked about it a lot as a group in our meetings, to help people through the frustration of not being able to directly affect this condition for most of the people we saw. We were able to give htn meds to a few people who fit some specific criteria (knew their medicine and dosage and hadn't been off of it for a long time). Most we did lengthy education about htn and ways to affect it through diet, etc., and encouraged them to try and see their local MD if at all possible.
For our off-time we drove from Ilagan to Banaue, up in the mountains. It's a beautiful, world heritage site and important to see. It's a 5-6 hour drive, we took two vans, and stayed at a hostel in Banaue. We visited the small hospital there and made donations of medicines that were about to expire-- it was great for the team to see how the hospital runs. I think several people were really touched by what they saw there. I know the hospital was grateful for our supplies. We stayed two nights in Banaue which allowed people to hike through rice terraces and see the amazing countryside, as well as do some souvenir shopping. There is little/no souvenir availability in Ilagan, and our time in manila is very limited so shopping really isn't an option. I think this is a good off-time destination for teams. It does mean making a 3 day weekend of it, due to the drive.
We ended the trip with $400 left in contingency money, some of which people had collected and given to me upon getting to Ilagan. We decided as a team to put that money towards the operations needed by a 4 year old girl who was born with an imperforate anus and has had a colostomy since birth. Her parents had no idea that she should have more surgery to help her have a normal GI tract, and she currently lives wearing a diaper wrapped around her waist with a stoma that just drains when it wants to. We have started the investigations into where she can have surgery (it will require two procedures) and the cost. Brad, one of the medical residents, has taken on spearheading fundraising for this and Will/Nehemiah Foundation will help to coordinate with the family there. Brad and Besh also did some detective work to find out if there are pediatric surgeons available in Luzon, and there are, they will continue to work on their end to see where the surgeries can be done
Submitted by Anne-Marie Summerhays
Statistics:
Total patients _____1992___ Ages 0-17: 648(33%) 18 and above: 1344(67%)
Total encounters* __3068__ Average 1.5 encounters per patient
* Encounters include medical, dental, physical therapy and vision stations so each
patient could have up to 4 encounters at the clinic. Encounters better reflect the total
amount of time spent on patient care.
Teams ticketed and set to travel:
• Dominican Republic: This team is set to depart on June 18th and is being led by veteran team leader Tammie Tally-Ingrao with the assistance of her husband John. We are now in the fourth year of the new Dominican Republic program and the education aspect of this program continues to expand and we are experiencing a greater connection with local/regional health care providers.
Team Cancelled:
• Haiti June: Unfortunately we had to cancel the June Haiti trip due to an insufficient number of participants for the team. There were only five applicants for this trip. This trip was a reschedule for the previously cancelled February trip.
A few factors affecting the cancellation:
• Lack of team leader commitment until the final 30 days before close of the application process
• This has proven to be a very difficult climate to work in with extremely hot and humid conditions
• There are still very active USDS Warden notices in regard to the dangers of traveling in Haiti
• This trip does not offer the "Adventure" element to the team members as we do in most other countries
• This trip up until now has been focused on providing services in heavily populated neighborhoods in Port au Prince
Future plans for Haiti:
• We now have a commitment from a new team leader (Jennifer Wisniewski) who has been on one previous PHH team to Haiti and has traveled and volunteered there with another organization. PHH veteran Rick Burian has also made a commitment to function as the Clinical Director for this program. Rick participated on numerous PHH teams to Haiti and is one of our "Lifetime Legacy" volunteers.
• We have scheduled a team to deploy under the leadership of Jennifer and Rick in February of 2016
• The February 2016 team will only spend one week working in the Carrefour community where we have previously worked and will then move further out into the countryside to a community called Port Salut. Jennifer has contacts in Port Salut and we have developed a plan for housing, transportation and clinic site logistics.
• This change to spending half of the trip out of the densely populated region of Port au Prince will likely aid in regard to recruitment and alignment with the PHH mission
Team selection just completed:
• Uganda: Team selection is complete and I am now in the process of ticketing the 11 team members. This team is being led by Lesa-Beth Titus and will serve in both Kawempe and Nangaiza. At this point in time we have five team members signed up to participate on the Safari extension program.
Current teams open for applicants
• Uganda (Kawempe & Nangaiza) January 2016: Application deadline is August 1st.
• Haiti (Port au Prince & Port Salut) February 2016: Application deadline is October 1st.
• Philippines (Ilagan, Isabella Province) April 2016: Application deadline is December 15th.